Adtran Netvanta 1550-24 24-Port 10/100 Managed Switch (17101524F1)
Adtran
Netvanta 1550-24 24-Port 10/100 Managed Switch (17101524F1)
New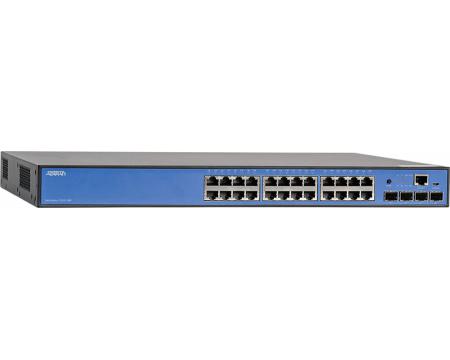 Need help with your purchase?
Call (888) 654-3376
Have one to sell?
Item Information
Adtran Netvanta 1550-24 24-Port 10/100 Managed Switch (17101524F1)
Your network operates by connecting computers and other devices using a combination of different networking hardware. These devices are the essential to allow your various pieces of equipment to connected to your network, and communicate with one another and other networks.

New items ship in their original manufacturer's packaging. These items are in excellent condition with no blemishes on their housings.
UPC: 00607565040238
Specifications
| | |
| --- | --- |
| Manufacturer | Adtran |
| Model | 17101524F1 |
| Number of Ports | 24 |
| Port Type | RJ-45 |
| Port Speed | 10/100 Fast Ethernet |
| Power Over Ethernet (PoE) | No |
| Rackmountable | Yes |
| Dimensions (WxDxH) | 17.4" x 8.8" x 1.8" |
| Additional Feature(s) | None |
| Alternative Part Number(s) | - |