Koss CS100 USB-A Stereo Headset w/NC mic
Koss
CS100 USB-A Stereo Headset w/NC mic
New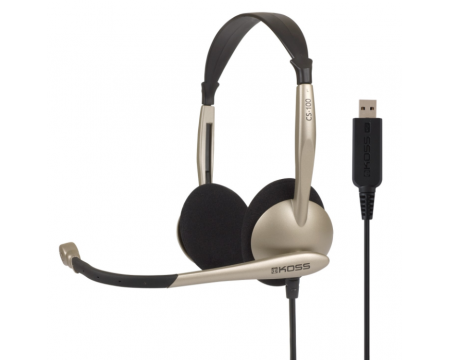 90+ Day Guarantee

Fast, Safe, & Secure Checkout

Free Shipping on Orders of $500+ *

Exceptional Customer Service
We are open and shipping products according to schedule! See more details:
COVID-19 Update
.
Have one to sell?
Item Information
The Koss CS100 USB communication headset boasts a full range of sound that brings every conversation to life. Hands-free communication via an electret, noise cancelling microphone, is combined with high noise sensitivity and reduced sound distortion for clear conversations. The USB plug provides quick and easy connection to your PC.
Features
Single, USB Type A plug for quick headset connection
Headset with electret, noise reduction microphone for hands-free communication from your PC
Ideal for PC voice applications, interactive gaming and speech recognition
Dynamic element for extended frequency response
Foam ear cushions for open, hear-through sound
Adjustable headband for a great fit
Headset cable - 8 ft
Included

New items ship in their original manufacturer's packaging. These items are in excellent condition with no blemishes on their housings.
UPC: 00021299178188