Fanvil X5S Black Gigabit IP Color Display Phone
Fanvil
X5S Black Gigabit IP Color Display Phone
New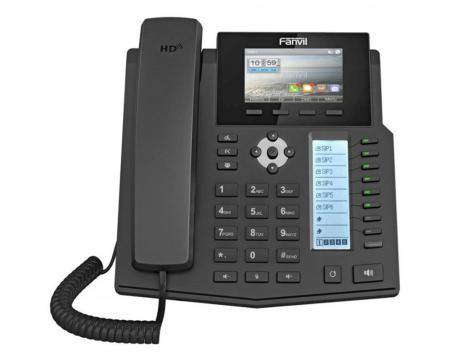 90+ Day Guarantee

Fast, Safe, & Secure Checkout

Free Shipping on Orders of $500+ *

Exceptional Customer Service
We are open and shipping products according to schedule! See more details:
COVID-19 Update
.
Have one to sell?
Item Information
Fanvil X5S Black Gigabit IP Color Display Speakerphone
Feature
The X5S IP phone is a dynamic business communications tool for superior voice communications and extended DSS screen functionality.
It has a faster, more responsive interface than the X3/X4 and offers better overall performance.
16-line IP phone
3.5 inch large main color screen, 64x192 dot-matrix DSS LCD
PoE enabled
8 DDS Keys (5 pages for a total of 40)
Supports EHS Wireless Headsets
Bluetooth capability by adding the Fanvil BT20 USB dongle
USB 2.0 Port
Wifi capable with Fanvil WF20 USB Dongle (not included)
RJ9 Headset Jack
Compatible with most VoIP platforms including 3CX, Asterisk, Broadsoft
Included
Fanvil X5S phone
Handset w/cord
Ethernet Cable
Desk stand/wall mount bracket
Quick Start Guide

New items ship in their original manufacturer's packaging. These items are in excellent condition with no blemishes on their housings.
UPC: 00889837000472
Specifications
Phone Type
VOIP
Lines
16 SIP Lines
Connection
Gigabit Ethernet (10/100/1000)
Display
Main LCD: 3.5 inch (480x320) Color LCD
DSS Key-Map LCD: (64x192) dot matrix
SIP
Yes
Additional Information
3-way Conference, Bluetooth support (dongle required)